---
The knee is a frequent source of pain and disability. In this section we review some of the common conditions that affect the knee and the treatment options available to you. These conditions include sprains and mild cartilage abnormalities that respond well to supportive measures (activity modification, physical therapy, braces, injections). It also includes tears (meniscus tears, anterior cruciate ligament tears) that sometimes require arthroscopic procedures. In addition, we cover arthritis and how it can progress and require knee replacement.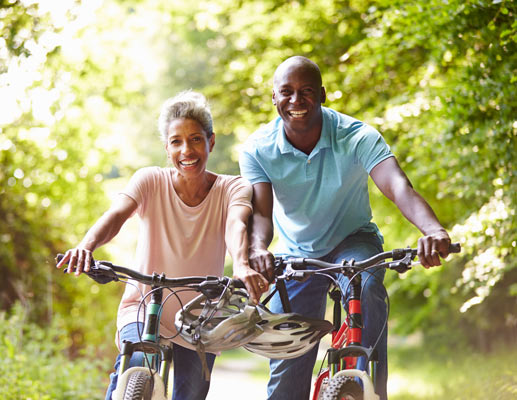 Anatomy
The knee is composed of four bones. The two main bones are the femur (top of the joint) and the tibia (bottom of the joint). The fibula (small bone next to the tibia) and patella (knee cap) also play an important role. The femur and tibia are coated with articular cartilage. The cartilage is what allows the knee to glide. When the cartilage breaks down pain and disability occurs (see sections on Cartilage, Joint Replacement).
In addition to the cartilage, the knee contains the meniscus. The meniscus is attached to the tibia and sits between the femur and tibia. It works like a shock absorber. There is one on each side of the knee.
The knee is a hinge joint. It is entirely different than the shoulder. It has less motion and only moves back and forth. The ligaments in the knee play a more important role in stabilizing the knee. There are four major ligaments supporting the knee. They are all important. The ligament that gets the most attention is the anterior cruciate ligament (ACL).
The anterior cruciate (cross) ligament (ACL) connects the femur and tibia. It prevents the tibia from sliding forward. The posterior cruciate ligament (PCL) also connects the femur and the tibia. However, it runs in the opposite direction of the anterior cruciate ligament. As a result, it prevents the tibia from moving backwards.
The medial and lateral collateral ligaments (MCL, LCL) also connect the femur and tibia. They are outside the fluid filled sac (joint). They prevent the knee from moving side to side.
The patella (knee cap) is a large bone on the front of the knee. It has cartilage on the surface facing the joint. It is a frequent site of arthritis and other cartilage disorders. The patella glides on the femur. It can be unstable and shift out of its groove. The patella is attached to two important tendons. These tendons work with the powerful quadriceps muscles to straighten the knee.