---
Diet and Exercise
In most cases, a sound nutrition program together with a modified exercise routine using low impact activities (water aerobics, biking, elliptical machines, hiking on relatively flat ground) can make your joints last longer. This is the best way to preserve your joints. We work closely with medical professionals who have expertise in diet and exercise. We are happy to help arrange a meeting with them if this is of interest to you.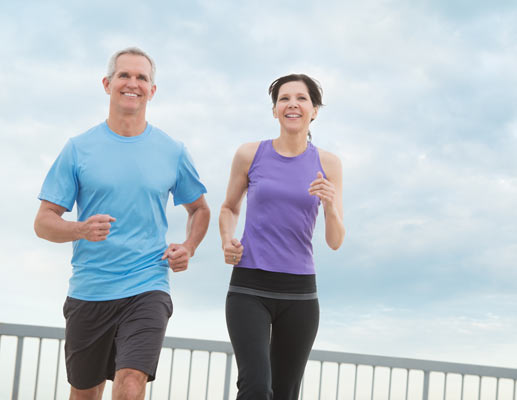 Physical Therapy
Assisted exercises and treatments specifically aimed at strengthening weakened or partially damaged tendons can prevent further damage. In addition, strengthening the muscles around a joint can help to stabilize it. This can also help to preserve joints. We are fortunate to have many wonderful physical and occupational therapists in our area. We will help coordinate a referral to a therapist who is appropriate for you. If you have a relationship with a therapist, let us know. We will work with them to help you achieve your goals.
Bracing
Braces are often part of the treatment plan for a number of joints. For example, if the arthritis is isolated to one side of the knee, a brace can be made to shift the patient's weight to the normal side. Some patients have unstable joints due to ligament injuries. Braces designed to address those specific deficiencies can also be helpful. However, the most common use of a brace is to decrease the feeling of instability (joint giving out, feeling loose). There are many braces on the market. Most basic braces can be purchased in drug stores. Braces more specific to certain injuries and custom braces are available through a number of companies. In our office we use Don Joy. However, if you would like to use a different company, let us know. We will help you obtain the brace you are looking for.
Glucosamine and Chondroitin Sulfate
These supplements have been around for a long time. Many people have tried them and have noticed decreased pain and increased function. As with all supplements, you should research the different brands. United States Pharmacopeia (USP) and National Sanitation Foundation (NSF) certifications can sometimes help you decide which company is right for you.
Nonsteroidal Anti-inflammatories (NSAIDS
These oral medications are designed to reduce pain and inflammation. Examples include naproxen, ibuprofen, and meloxicam. They work well for the short-term relief of a number of conditions, including arthritis. However, their long-term use has been associated with serious side effects. Anyone with a condition affecting the heart, kidneys, liver, or gastrointestinal tract should consult with their primary care physician before taking these medications. In our practice, these medications are used for short-term pain relief. There is some evidence that these medications can slow or prevent fracture and tendon healing. Caution is advised in these settings as well.
Topicals
Topical pain relievers have a role in the treatment of pain because patients don't have to take a pill. Therefore, the medication does not have to run through the entire body. This is where most side effects come from. Topical pain relievers deliver the medication to the problem area. While there is typically some absorption into the body it is much lower than with the same medication in a pill form. This avoids the problems associated with oral nonsteroidal anti-inflammatories (heart, kidney, liver, gastrointestinal tract). In addition, we have found that topicals are beneficial for postoperative pain. The use of topicals post operatively has decreased our patient's needs for narcotics. Narcotics are associated with dependence, delirium, falls, dizziness, constipation, and a host of other problems.
Topical pain relievers come in a variety of forms. These include liquids, gels, and patches. Many are available over the counter in local drug stores. Examples include Sportscream™ and Icy Hot™. Diclofenac is a common prescription strength nonsteroidal anti-inflammatory. It comes in a patch (Flector™), gel (Voltarin™), and a liquid (Pennsaid™). Another common topical patch is called Lidoderm™ (lidocaine). Lidocaine is an anesthetic. All of these medications have a role in the treatment of various disorders.
While some patients get relief from the topicals listed above, topical compounds have become increasingly more popular. Since most pharmacies don't have the capability to make compounds, compounding pharmacies have had a resurgence in the past few years. In a compounding pharmacy, the pharmacist actually mixes the ingredients specifically for a particular patient. Compounds may include a single agent or combination of agents such as an anti-inflammatory, anesthetic, muscle relaxer or neuropathic medication. We have had a lot of success with topicals for the treatment acute and chronic conditions. We have also found it helpful for postoperative pain control. If you have a relationship with a compounding pharmacy or wish to locate your own compounding pharmacy, please let us know. We are happy to work with the pharmacy you choose. If not, we have a relationship with Insight Pharmaceutical Solutions. They are accredited by the National Association Board of Pharmacy (NABP) and the Pharmacy Compounding Association Board (PCAB). Our patients have had a good experience with this pharmacy.
Injections
Injections have played an important role in the treatment of joint conditions for many years. Injections are able to eliminate or reduce pain for many people. In fact, many patients are able to avoid surgery through the use of joint injections. As you will see below, this area is undergoing tremendous growth. Research into newer injections, including biologic injections (platelet rich plasma, amnion, bone marrow) offers great promise.
Cortisone Therapy
The most common injection is cortisone. Cortisone is a powerful anti-inflammatory medication. For some patients, the cortisone shot provides long-term relief by reducing joint inflammation and its associated pain.
Viscosupplementation
These injections are designed to lubricate the joint. Common names include Synvisc™, Hyalgan™, Orthovisc™, Genvisc™, Supartz™, and Euflexxa™. While these vary in composition, all utilize sodium hyaluronate. For some patients, these injections provide long-term relief of arthritis.
Biologic Injections
We have long recognized that the body has a tremendous ability to heal itself. For years we have used proteins to stimulate bones to heal. We have also injected a patient's bone marrow into a fracture to stimulate healing. As we learn more about the complex interactions that take place within our bodies, we continue to develop an understanding of how to help the body heal itself. We are in the early stages of this branch of science. However, it is clear that in the future biologic solutions will be the answer.
Platelet Rich Plasma Therapy (PRP)
PRP injections have become increasingly popular. They have been publicized as a result of being used by many well-known athletes. With PRP, the patient's own platelets are used as the therapeutic agent. Platelets contain growth factors, which are known to accelerate healing. These injections are most commonly used to treat conditions such as arthritis, bursitis, tendinitis, and partial tendon tears.
The platelets are taken from a simple blood sample in the office. After the blood is drawn, the platelets are separated using a process known as centrifugation. The platelets are then injected into the problem area.
Research is currently being conducted to better understand how PRP therapy works and reduce the variation in outcomes that are being reported.
Stem Cell Therapy
True stem cells are undifferentiated cells that have the ability to mature into specific cell types. This means that in theory we could inject cells into a damaged area of the body and those cells could then change into cells capable of repairing the damaged area. At the current time, the medical community is still trying to understand exactly what these injected materials are doing once they are inside the body. This area of research is rapidly expanding. Biologic and cell based therapies are currently being used for a variety of conditions including arthritis. We used the heading, "Stem Cell Therapy" because that is the term most patients use when they refer to the following biologic treatments: amniotic allograft (amnion), umbilical cord blood, bone marrow aspirate, adipose (fat). However, although that is the term with which most people are familiar, when we discuss biologic injections we prefer to use the actual term for the material being injected. Most of the products labeled or reported to be Stem Cells are not actually Stem Cells. This does not mean that they don't help. However, as our understanding of this exciting area of medicine develops, we must attempt to be as accurate as possible in our description of the materials being used. It is important to remember that in the United States cells can't be manipulated. It is also important to remember that typically the medical provider is not testing the products. If it is a donated product, the provider is trusting the screening process. Most importantly, they are trusting that the material, if donated, is clear of infectious diseases. In addition, the provider trusts that the manufacturer has procured and supplied exactly what they have represented to the provider. As the research progresses we expect that these techniques will become a more common treatment option. Today, biologic and cell based procedures related to orthopaedic conditions are in the very early stages. For this reason, of the biologic injections, platelet rich plasma, amniotic allograft (amnion), umbilical cord blood, bone marrow aspirate, and adipose (fat), are used more frequently.
Insurance Coverage
Cortisone injections are almost always covered under insurance.
Viscosupplementation injections are covered by most insurance plans.
Platelet rich plasma and other biologic injections are not typically covered by insurance.